About one out of every nine expectant mothers in the United States experiences symptoms of postpartum depression, according to the Centers for Disease Control and Prevention. The impact not only can affect the mother, but also the health of her child. In a PCORI-funded study, Darius Tandon, PhD, and his team are examining the Mothers and Babies Program, a cognitive behavioral therapy intervention focused on preventing postpartum depression. The study is comparing the program's effectiveness when it's led by mental health professionals versus lay home visitors, who do not possess advanced mental health training but often have previously established relationships with clients.     

After growing up with depression and anxiety, Jessica Rykse found that celebrating the good news of her pregnancy came with the worry that hormones would lead her back to a complicated and painful path.
Rykse had been managing her symptoms without medication for two years before moving with her husband to Muskegon, Michigan. There she found Muskegon Family Care's Maternal Infant Health Program, which provides care to pregnant women and infants in their homes. During a visit Rykse mentioned her concerns about postpartum depression.
"I'm one of the last of my friends to have a kid and a few of them actually opened up to me about postpartum depression and the shame many of them felt about it," says the 33-year-old cosmetologist and seamstress. "I wanted to be as proactive about it as I could."
Her home visiting nurse referred her to Mothers and Babies—a program for preventing postpartum depression—and the focus of a PCORI-funded study.
At six months pregnant, she joined fellow mothers-to-be for six weekly sessions led by a home visiting nurse. The sessions provided an opportunity to learn more about postpartum depression and to talk with other mothers and mothers-to-be having similar experiences.
"Before the program, I didn't know that postpartum depression could last up to a year after giving birth. I thought it was just right after the baby was born," Rykse says. "I learned that people might call it the baby blues, having a hard time, or just not connecting but all of that could actually be associated with having postpartum depression."
More Than the Baby Blues
According to the Centers for Disease Control and Prevention, nationwide about one expectant mother out of every nine will experience symptoms of postpartum depression.
But the terminology—baby blues, postpartum depression, and perinatal depression—can be confusing. The difference is in timing and symptoms. The baby blues last a maximum of two weeks after birth, but postpartum depression can last until a child's first birthday. Perinatal depression encompasses it all—depression during pregnancy and a year after delivery.

For women experiencing postpartum depression, the symptoms far exceed the baby blues in their intensity. These symptoms can include excessive crying, panic attacks, withdrawal from family and friends, and difficulty bonding with the baby.
The impacts can affect both mother and baby. In addition to increasing the risk of suicidal thoughts and suicide, postpartum depression can interfere with a mom's ability to care for and connect with her newborn. For babies, perinatal depression in the mother has been linked to preterm births; an increased risk for low birth weight, meaning less than 5 pounds, 8 ounces;  and babies smaller in size than is normal for the number of weeks of pregnancy.

In February 2019, the US Preventive Services Task Force 
recommended
 women who are pregnant or have recently given birth and have increased risk factors for perinatal depression—including personal or family history of depression, lower socioeconomic status, and adolescent parenthood—receive referrals for counseling.
The task force found that for those patients, interventions, such as cognitive behavioral therapy, can effectively prevent perinatal depression. The group cited one cognitive behavioral therapy program in particular—Mothers and Babies, which Darius Tandon, PhD, is examining in his PCORI-funded study.
His team is assessing whether lay home visitors, who do not have advanced mental health training but often have established relationships with clients, can be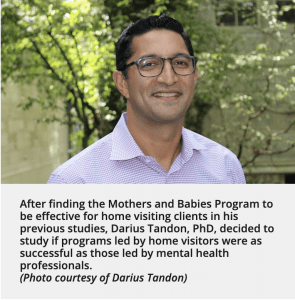 as effective at preventing postpartum depression as when mental health professionals lead the program.
"I think this is so important and innovative because home visiting occurs in every state in the United States," says Tandon, who is the co-director of the Centerfor Community Health within the Institute for Public Health and Medicine at Northwestern University's Feinberg School of Medicine. "There are hundreds of home visiting programs that exist with thousands of women in them, giving us the opportunity to intervene and keep women who have some elevated depressive symptoms from worsening."
Making Prevention Sustainable
At its core, Mothers and Babies is a group-based program relying on cognitive behavioral therapy and attachment theory, a combination designed to provide expectant moms the tools for changing thought patterns, improving mood, and bonding with their babies to prevent postpartum depression.
Participants learn about how the three main components of cognitive behavioral therapy—pleasant activities, thoughts, and contact with others—influence their mood and how to improve their mood. Instructors connect these components with bonding, emphasizing skills to help mothers positively and affectionately bond with their babies.
"Your baby's first exposure to healthy emotions is through contact with you, the mom," says Rykse, who now has a 13-month-old daughter. "Studying how to prevent postpartum depression is important because if you have healthier moms, you will have healthier kids, and ultimately a healthier society."

The program taught her coping mechanisms and skills for self-improvement, such as evaluating her feelings daily, asking for help when needed, and designating a time to worry instead of letting overwhelming feelings consume the day.
In previous studies, Tandon and others showed the program to be effective for home visiting clients from lower socioeconomic backgrounds.
"One of the defining characteristics of Mothers and Babies is that it's a cognitive behavioral intervention specific to pregnancy. For example, we talk about what pleasant activities you are more or less able to do because of pregnancy and what you would like to do with your baby," Tandon says. "I think this makes the intervention really resonate with women because everything is very tangible and linked to what they are experiencing and are about to experience."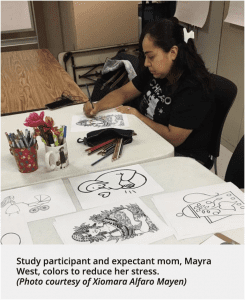 The study spans 36 home visiting programs across seven states, all providing care to pregnant women and new mothers. They are randomly divided into threegroups:
Mental health professional-led programs with six sessions before birth and 289 women enrolled
Home visitor-led programs with the same number of sessions and 389 women enrolled
Home visiting programs without the Mothers and Babies Program and 157 women enrolled
"Many home visiting programs may not have ready access to mental health professionals," Tandon says. "If home visitors can effectively deliver the Mothers and Babies Program, it's going to be more efficient and cost effective."
Leading the Way
A group of 16 stakeholders guided the study. Members included women enrolled in home visiting who received the intervention, home visiting clients who had not, mental health professionals, researchers, home visiting program managers, and a representative from an Illinois government agency overseeing home visiting in the state.
One of the stakeholders was Sara Barrera, a program manager at Advocate Healthcare in Chicago, Illinois, for 16 years, primarily working with postpartum women. Their program serves women of lower socioeconomic status who are age 25 and younger and either pregnant or have recently delivered their baby.
Her team's experience with referrals for mental health services has shown her the potential benefits of home visitor-led Mothers and Babies groups.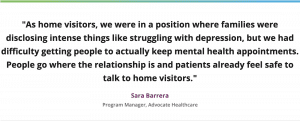 "As home visitors, we were in a position where families were disclosing intense things like struggling with depression, but we had difficulty getting people to actually keep mental health appointments," Barrera says. "People go where the relationship is and patients already feel safe to talk to home visitors."
As a stakeholder, she contributed her insights into what has and has not worked for planning Mothers and Babies groups within organizations, and what is fair or a burden to program staff.
"For places without a mental health clinician or that can't afford one, home visitor-led Mothers and Babies Programs are an accessible model to implement," says Barrera, who's also a trained doula, providing emotional and physical support during the birthing process.
Spreading the Word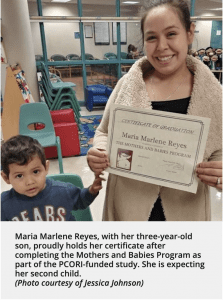 As Summer 2019 draws to a close, so too will the study. While analysis of the results begin, Tandon will speak about the Mothers and Babies Program at the
annual conference of Zero to Three, an organization dedicated to ensuring a healthy start to the first three years of life. He will also present a poster at the 2019 PCORI Annual Meeting and the Marcé of North America Biennial Conference on Perinatal Mental Health.
Once findings are available, the team plans to disseminate them to audiences that include experts in perinatal mental health, community mental health centers, early childhood programs, and the home visiting community.
Barrera, a member of that community, applauds the research team for wanting to continue to partner and share the results with those who, like herself, are already working to help families.
"Now more than ever, it is really valuable to fund maternal health research initiatives that involve home visiting programs," Barrera says. "By collaborating with groups that are already addressing poverty, mental health issues, and access to care in vulnerable populations, it maximizes the potential for improving maternal health outcomes."
Comparing the Effect of Mothers and Babies Groups within Home Visiting Programs on Postpartum Depression
Principal Investigator:
 Darius Tandon, PhD
Goal
: To compare the effectiveness of Mothers and Babies groups in preventing postpartum depression when lay home visitors versus mental health professionals lead the group sessions.
View Project Details
Melissa Schenkman is a Writer and Editor at the Patient-Centered Outcomes Research Institute (PCORI) in Washington, DC. She reports, writes, and edits health content for both lay and professional audiences. Before joining PCORI, Schenkman worked as a medical and human interest writer for Lucile Packard Children's Hospital of Stanford University, where she reported and wrote stories about pediatric medical breakthroughs and the hospital's impact on children in the surrounding community. Schenkman holds an MPH in behavioral science and health education from the Rollins School of Public Health at Emory University. She also holds an MSJ from the Medill School of Journalism, Media and Integrated Marketing Communications at Northwestern University, where she received the Comer Scholarship in Health, Medical and Environmental Reporting.