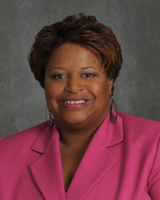 Rewa Thompson, DNP, RN, WHNP-BC enjoys empowering young women as a practitioner and educator. Learn more about her in this NPWH Member Spotlight.
How long have you been practicing?  Where did you go to school?  I graduated from Stony Brook University and have been practicing for 23 years.
What kind of practice do you work in? I have been working at Planned Parenthood of Nassau County (now called Planned Parenthood of Greater NY) for 25 years. I started working there as an RN in 1995 until I completed my NP program in 1998.
Do you have a particular specialty? If so, how did you get interested in that specialty? Not one in particular, I have done both OB and GYN but primarily GYN for adolescents and young adults. I enjoy educating and empowering young women to maintain their reproductive health.
Did you always want to be an NP? My initial career choice was to become a CPA. My mother and her friends were all nurses, and I felt like I wanted to do the opposite of what she was doing (typical rebellious teenager).  I finally decided to become an RN because I had a job in a nursing home feeding elderly patients and my interest was piqued from there!
What made you want to become an NP?  While in nursing school my capstone was in an ICU and I worked as a nurse's aide in the hospital. My friend was a pregnancy test counselor at Planned Parenthood and encouraged me to go there for routine GYN services and family planning education. I learned about the role of the WHNP and I immediately enrolled in NP school the year after I finished my RN program.
What has your career trajectory been? After working at Planned Parenthood for the first 10 years of my career, I decided to pivot into nursing education in 2005. I started teaching in an LPN program, then an AAS program, and eventually a BS and MS program. I am currently a clinical assistant professor and maternal-newborn health course coordinator at Stony Brook University. The past 15 years in nursing education has helped me to expand professionally in scholarly work. In 2018 I became more involved with initiatives that focused on diversity and inclusion in nursing education and reducing maternal mortality among Black women.
What is one fun fact about you?  In August 2017, I did a spiritual equivalent to a TED talk in front of a live studio audience about how I was introduced to my religion through my husband 33 years ago. You can see the full story here: https://incmedia.org/praying-with-faith/