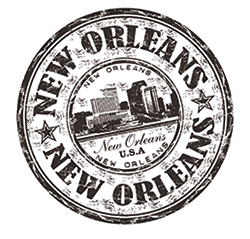 This issue of Women's Healthcare: A Clinical Journal for NPs features abstracts presented at the 19th annual NPWH conference in New Orleans in October 2016. These abstracts include those of the podium presenters and that of the first-place poster award winner. My heartiest congratulations to all! Each year, the NPWH conference is enriched by these podium presentations and the poster sessions. Please take time to review the abstracts that provide state-of-the-science information about women's health, and please consider submitting your work for 2018!
Lorraine Byrnes, PhD, CNM, FNP-BC, PMHNP-BC, FAANP
2016 NPWH Research Committee Chair
Streamlining time to diagnosis and treatment of gestational diabetes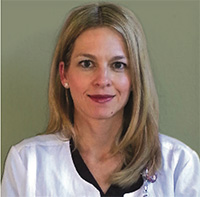 By Catherine DeBoo Cornish, MS, RN, WHNP-BC
Objectives:
To compare a one-step versus two-step screening method used to diagnose gestational diabetes mellitus (GDM).
To compare the prevalence of GDM using the one-step versus two-step screening method in our patient population.
To identify a GDM screening method that improves time to diagnosis and treatment of GDM in low-income pregnant women receiving care at a hospital-based outpatient women's center.
Background:
GDM affects approximately 240,000 pregnancies in the United States annually and is associated with maternal adverse events (hypertension, preeclampsia, polyhydramnios, and preterm delivery) and neonatal complications (macrosomia, shoulder dystocia, and increased morbidity). Timely diagnosis and treatment improve outcomes. Traditionally in the U.S., women without known diabetes have been screened at 24-28 weeks using a two-step procedure: a 1-hour glucose challenge test, and, if the result is abnormal, a fasting 3-hour glucose tolerance test (GTT) performed on another day. Current literature and the American Diabetes Association support a one-step approach in which women are screened with a one-time fasting 2-hour GTT. At our women's center, we observed delays in diagnosis and treatment using the two-step approach, with women taking an average of 15 days to complete step 2.
PICO question:
In low-income pregnant women receiving care at a hospital-based outpatient women's center, what is the effect on time to diagnosis and treatment of a one-step approach compared with the two-step procedure in diagnosing GDM?
Methodology:
We piloted a one-step GDM screening approach (N = 100 women) and assessed baseline two-step procedure information (N = 319 charts).
Results:
With regard to the one-step versus two-step approaches, respectively, GDM diagnosis was made in 10/100 patients (10%) versus 17/319 patients (5%), mean time from abnormal screen to treatment occurred in 10 days versus 29 days, and mean gestational age at treatment was 29 weeks versus 31 weeks.
Implications for women's healthcare:
With the one-step approach, GDM is diagnosed on the same day and more frequently. Treatment is, on average, 19 days earlier than with the two-step approach. Results of this project support using the one-step approach for prompt GDM diagnosis and treatment in this population.
Patient acceptance of decreased cervical cancer screening frequency in an urban practice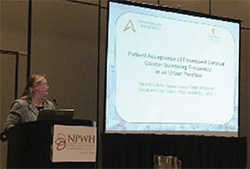 By Meredith Hudes-Lowder, DNP, RN, WHNP-BC and Elizabeth Cole Collins, PhD, WHNP-BC, IBCLC
Objectives:
To review current consensus guidelines for cervical cancer screening.
To compare characteristics of women in this study who are accepting of less frequent cervical cancer screening with those who are not accepting of the change.
To identify the reasons women may be reluctant to decrease screening frequency.
Purpose:
To examine women's preferences for cervical cancer screening frequency in a large, multiethnic, urban medical practice
Methodology:
A descriptive, cross-sectional survey design was used. A convenience sample of women aged 33-60 (N = 250) completed a survey regarding cervical cancer risk and screening perceptions at a gynecologic visit. Information collected included the participant's current Pap test frequency, opinion regarding appropriate Pap test intervals, and perceived risk of being personally diagnosed with cervical cancer. Descriptive statistics and bivariate analyses were used to characterize the sample and examine associations between variables.
Results:
Mean age was 44.1 years (SD, 8.4). More than 75% of the women identified as minority, fewer than 35% were married, and more than 55% had 4 years of college education or more. Eighty-two percent (n = 206) thought the possibility of their getting cervical cancer in the future was no chance to low chance. Most participants (n = 221, 88.4%) believed that women their age should have a Pap test annually, which was significantly associated with unwillingness to accept a longer screening interval. Non-Caucasian ethnicity, 1 year or less since their last Pap test, and next expected Pap test falling within 1 year also significantly influenced women's reluctance to extend the time between screenings. Most women (n = 170, 68%) indicated they would prefer to continue annual screening even if their provider suggested screening every 3 years. Among these women, 90% reported early cancer detection as the reason for wanting annual screening; other reasons given were personal history of abnormal Pap test result, fear and anxiety, family history, and concern about exposure with a new partner.
Implications for women's health:
Patient acceptance of the changes in cervical cancer screening recommendations has been slow. Findings of this study demonstrate a gap between implementation of evidence-based guidelines and actual practice. These findings reinforce the need for patient education about human papillomavirus and the pathogenesis of cervical cancer, especially in light of continuing changes in technologies and guidelines for cervical cancer screening.
Screening for intimate partner and sexual violence among college women: Predictors and missed opportunities for intervention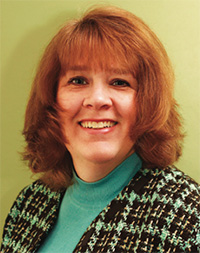 By Heidi Collins Fantasia, PhD, RN, WHNP-BC and Melissa A. Sutherland, PhD, FNP-BC
Objectives:
To state the prevalence of physical and sexual violence among college women.
To identify violence screening practices among women who seek care at college health centers.
To list strategies for improved violence screening among college women.
Purpose:
Intimate partner violence (IPV) and sexual violence (SV) are major public health problems for female college students. IPV and SV are associated with numerous adverse health outcomes, including adverse physical, psychological, and reproductive consequences. Leading organizations and experts recommend screening for IPV/SV in healthcare settings, including college health centers. Given the prevalence and health risks associated with IPV/SV in female college students, the purpose of this descriptive study was to extend our limited knowledge of violence screening among college women. In particular, we sought to examine IPV/SV screening experiences and identify missed opportunities for screening and secondary prevention.
Methodology:
A cross-sectional, Web-based survey was administered to female college students at two universities in the northeastern United States. The survey consisted of demographic questions, assessment of lifetime and past-6-month experiences with IPV/SV, use of healthcare services either at the college health center or with an off-campus provider, and assessment of screening practices in the healthcare setting.
Results:
The final sample included 615 students (mean age, 21.5 years). Participants reported high rates of IPV/SV and low rates of violence screening at college health centers and off-campus settings. Lifetime experiences of IPV/SV were reported by 222 women (36.1%); forced or unwanted sexual activity was the most commonly reported act of
violence (n = 154, 25.3%). Fifty-one participants (8.1%) experienced IPV/SV in the past 6 months. A total of 264 participants (54%) reported visiting the college health center in the past 6 months. At their most recent visit, 220 participants (83.3%) reported not being asked about their relationships and 237 (92%) reported not being asked about IPV/SV.
Implications for women's health:
College women utilize healthcare services, and each interaction presents an opportunity to inquire about relationship characteristics and exposure to violence. Routine provider screening for IPV/SV in all healthcare settings can identify women at risk and can lead to interventions that may reduce subsequent violence and improve health outcomes and referrals. Theory-based, culture-specific, multilevel interventions are needed to promote IPV/SV screening among college healthcare providers.

Poster Award Winner: First Place
Third-trimester screening for chlamydia and gonorrhea in pregnant teens
By Shauna Marie Smith, DNP, RN, WHNP-BC; Jennifer Allen, DNP, RN, WHNP-BC; and Debra L. Ilchak, DNP, RN, FNP-BC, CNE
Objectives:
To describe the health impact of undetected chlamydia and gonorrhea infection during pregnancy.
To identify the recommendations from expert panels for screening for chlamydia and gonorrhea during pregnancy.
To discuss strategies for routine third-trimester chlamydia and gonorrhea screening in a high-risk population.
Purpose:
The purpose of this project was to implement a practice change in a clinic caring for underserved pregnant teens to align with national standard-of-care guidelines from the CDC and the United States Preventive Services Task Force (USPSTF), which recommends routine third-trimester chlamydia and gonorrhea screening in high-risk populations.
Summary:
Despite national recommendations, providers are underscreening and missing opportunities to screen young at-risk women, especially in pregnancy. Only an estimated 59% of pregnant women in the U.S. are receiving chlamydia and gonorrhea screening. Pregnant teens are at higher risk for sexually transmitted infections (STIs), and infection during the third trimester is not uncommon. In an urban teen pregnancy clinic in the Southwestern U.S., patients were screened for chlamydia and gonorrhea at the initial prenatal visit but not routinely again during pregnancy.
For this project, a practice change was initiated to follow CDC and USPSTF recommendations. Pregnant patients younger than 25 were rescreened for chlamydia and gonorrhea infection during the third trimester, on or after 35 weeks of gestation. As a strategy to ensure compliance with the practice change, providers conducted this screening along with the Group B Streptococcus test, which was already routinely performed in the clinic.
Outcomes:
At 10 weeks post-implementation, a chart review was completed to assess provider compliance with screening during the third trimester and the rate of positive results for chlamydia and gonorrhea. All patients (N = 10, 100%) who were eligible for routine third-trimester screening were screened appropriately. Patients were screened in the third trimester at a mean of 35.8 (SD, 7.8) weeks' gestation.  One patient screened positive for chlamydia at the third-trimester screening, resulting in a 10% positivity for chlamydia in the patient sample.
Implications for women's healthcare:
Chlamydia and gonorrhea are the highest reported STIs in the U.S. among persons aged 15-24 years. Screening by providers is important, because these infections, often asymptomatic, are associated with adverse pregnancy and neonatal outcomes. Providers following national screening guidelines can help reduce these potential complications and improve maternal and infant health.