Auspicious beginnings and courageous conversations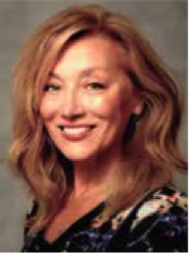 As the new NPWH Board of Directors Chair (2020–2022), I am eager to start a new role, new year, and new decade with auspicious beginnings. The World Health Organization (WHO) has designated 2020 the International Year of the Nurse and the Midwife in honor of the 200th birthday of Florence Nightingale. Nurses and midwives are the essential and often only healthcare providers in communities around the world, constituting more than 50% of the health workforce in many countries.

WHO reports the world needs 9 million more nurses and midwives to achieve universal health coverage by 2030. We look forward to WHO's first State of the World's Nursing report to be launched this year. At the NPWH organizational level, we will work to sustain a national dialogue throughout the year in celebration of the nursing profession and highlight ways to increase investment in it and alleviate obstacles. To get involved and bring the campaign message to your workplace and community, visit the WHO website for the campaign toolkit.
Heralding the start of the Year of the Nurse and the Midwife, I would like to recognize two nurse contemporaries of Florence Nightingale and Clara Barton who despite unimaginable obstacles made significant contributions to our profession. They are Mary Eliza Mahoney (1845–1926) and Susie King Taylor (1848–1912).
Mary Mahoney was the first African American to work as a professionally trained nurse in the United States, graduating from the nursing program at the New England Hospital for Women and Children in 1879. She created the National Association of Colored Graduate Nurses, which had a significant influence on eliminating racial discrimination in the profession and later merged with the American Nurse Association.1
Susie Taylor, born into slavery she later escaped, was the first African American army nurse and an educator and activist. She tended the 33rd US Colored Troops during the Civil War and authored the only account of Civil War experiences by an African American woman. She became president of the Women's Relief Corps in 1893.2
As we honor Florence Nightingale this year, we reflect that by today's standards she would have been the world's first advanced practice nurse. She has been quoted as saying: "For we who nurse, our nursing is something which, unless we are making progress every year, every month, every week, we are going back. No system shall endure which does not march."
NPWH has exhibited steady progress since its inception in 1980. We continue to "march" to expand the impact of our organization and profession through strategic priorities that support nurse practitioners in women's health, from providing student mentoring and leadership programs for the next generation of nurse practitioners to the NPWH-led BOlder Women's Health Coalition, a pioneering effort that partners healthcare and public policy to meet the needs of aging women. Using the United Nations Sustainable Development Goals, we will "march" to address women's and gender-related health and wellness. These will also guide us in empowering women and girls by reducing inequalities through supporting marginalized populations and working to change the impact of social determinants of health and planetary health in our role as healthcare providers.3
Essential to all is assessing where our profession is within the current context of turbulent political, global events and a rapidly changing healthcare landscape. We can then begin to understand clinical practice and organizational obstacles that are perhaps uncomfortable to address. To create more conscious systems and organizations that provide greater inclusivity and representation, structural change is inevitable. Diversity expert Howard Ross has written about organizations being ruled by normative behaviors that we never question just because they seem so normal. He expresses the need to "pause to see ourselves and our organizations in action," allowing us to recognize how some of it can cause unintended negative repercussions.4
At the NPWH conference in Savannah in October 2019, we paused to see ourselves. Themes of implicit bias, inclusivity and equity, underrecognized and undertreated mental health disorders, disproportionate maternal mortality rates for women of color, threats to women's reproductive rights, and access to care were highlighted. We addressed these issues and discussed how healthcare providers could work toward intentional, active change. One WHNP student attendee wrote:
"I left Savannah feeling empowered, motivated, and excited to start transitioning into my role as a Women's Health Nurse Practitioner over the next year. I appreciated the inclusion of content that may be seen as controversial to some. As care providers, it is very important for us to make ourselves uncomfortable in order to learn about the experiences of others. I was very impressed and grateful for the content incorporated throughout the conference on maternal mortality rate disparities, especially in Black and Native American women, and for the material discussing implicit bias and systemic racism. These are things we often don't want to think about unless it directly affects us. To see NPWH starting these conversations and disseminating this information to leaders in our field gives me great hope that we may spark change together in women's healthcare and in our communities across the nation."
Her words affirm what NPWH does best: We are "the nation's leading voice for courageous conversations about women's health."5 We are the professional organization making the invisible visible in women's health through including topics such as sex trafficking, women's sexual health, nonbinary and transgender healthcare, gender-affirming hormone therapy, and new models of care for older women. We empower women to be strong decision makers in their own health. We influence by being highly visible and connecting with organizations that share our values to raise public awareness, publishing a professional journal and position statements, providing continuing education resources, and recognizing significant contributions to the profession through national awards. We are committed to educating our members and the public on issues impacting women's health and to the perspective of health described in the UN's Sustainable Development Goals. As we embark on this decade, let's review our organization's mission, vision, and values and consider how, as a community of women's healthcare providers, we can strategically move forward with controversial and courageous conversations.
– Diana M. Drake, DNP, APRN, WHNP, FAAN
References
1. Ridgeway S. Mary Mahoney, the First African-American Graduate Nurse. Working Nurse. 2019. https://www.workingnurse.com/articles/Mary-Mahoney-the-First-African-American-Graduate-Nurse.
2. Battlefields.org. https://www.battlefields.org/learn/biographies/susie-taylor.
3. United Nations. https://www.un.org/sustainabledevelopment/sustainable-development-goals/.
4. Ross H. Everyday Bias: Identifying and Navigating Unconscious Judgments in Our Everyday Lives. London: Rowman and Littlefield; 2014.
5. NPWH. NPWH mission, vision, and values. https://www.npwh.org/pages/about.
Web resources
A. who.int/campaigns/year-of-the-nurse-and-the-midwife-2020/get-involved