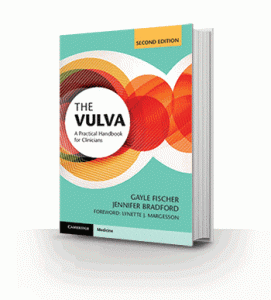 By Susan Hoffstetter, PhD, WHNP-BC, FAANP
The Vulva: A Practical Handbook for Clinicians was written to improve healthcare providers' (HCPs') abilities to diagnose, treat, and manage vulvar disorders, including those affecting the pelvic floor. The authors, Australian dermatologist Gayle Fischer and gynecologist Jennifer Bradford, have extensive clinical and research experience in this area.
Many HCPs, regardless of their educational background and practice experience, have limited knowledge about vulvar diseases and conditions. To care for women with these problems, HCPs need to be mindful of the "neighborhood" in which they occur, which includes the reproductive tract; the urinary tract; the lower gastrointestinal tract; the pelvic nerves and muscles; and the functions of all these organs and systems, including sexual function.
The authors start with a basic review of the anatomy of the area, and describe how to take a vulvar history. They have organized the book into chapters based on clinical findings, presentations, and patient history. For example, lesions or pigmentation changes are listed by color, from red to white. Descriptions and photographs of vulvar rashes, ulcers, blisters, and bumps guide HCPs in making an accurate diagnosis.
The authors emphasize the role of environmental exposure to skincare products, detergents, clothing, and over-the-counter medications in the etiology of recurrent vulvar disorders. They advocate substituting hypoallergenic, fragrance-free products for these culprits, as well as other environmental modifications. If treatment of certain dermatologic conditions affecting the vulva is needed, they exhort readers to "…not be afraid of topical corticosteroids. Embrace them!" Often lost in the vulvar and dermatologic literature is the treatment strategy of starting with a more potent topical corticosteroid for initial treatment and symptom control and then tapering to a lower potency topical corticosteroid for long-term management.
Another goal of the authors is to increase awareness of the relationship between vulvar signs and symptoms and certain systemic illnesses. In some cases, the presenting vulvar complaint may be an indicator of other disease states. In other cases, psychological stress, past trauma, or a psychiatric condition may be affecting vulvar symptoms and pelvic floor function. A holistic approach to treatment will likely result in improvement of the vulvar and pelvic floor problems, at least to some degree.
The authors' view on vulvar pain and dyspareunia differs from that of many HCPs in the United States. They use the terms lesional pain or non-lesional pain instead of generalized or localized vulvodynia or vestibulodynia. However, their recommended use of neuropathic pain medications conforms to more standardized approaches. Topical medications containing estrogen or corticoster-
oids are also prescribed in their practices, but effectiveness of these medications varies.
One chapter of the book is devoted to vulvar disease in children. The authors advise HCPs to exercise caution in distinguishing dermatologic conditions in this population from the signs of maltreatment or sexual assault. Tucked into the end of the book is a not-to-be-missed chapter entitled Myths and Pearls.
Overall, this useful handbook guides HCPs in the proper diagnosis, treatment, and management of women with vulvar disorders. The format is straightforward and easy to follow, with accompanying photographs for comparison. Suggestions for additional readings provide an opportunity for learning on a deeper level. Handbooks such as this one should lead to improved outcomes for women with vulvar disorders.
Susan Hoffstetter is a Fellow of the International Society for the Study of Vulvovaginal Disease and a Professor in the Division of Urogynecology and Co-director of the Vulvar and Vaginal Disorders Specialty Center at Saint Louis University School of Medicine in St. Louis, Missouri.
*Fisher G, Bradford J. The Vulva: A Practical Handbook for Clinicians. 2nd ed. Cambridge, UK: Cambridge University Press; 2016.