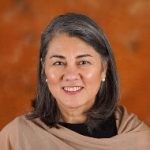 Dr. Ginny Moore and Dr. Shelagh Larson have been inducted as American Association of Nurse Practitioners (AANP) fellows in recognition of their achievements and service.
The induction was held at the 2023 AANP National Conference in New Orleans, Louisiana.
Dr. Moore, DNP, WHNP-BC, is a member of NPWH's board of directors and has served as a member of the Journal's Editorial Advisory Board, is a board-certified Women's Health Nurse Practitioner whose special interest is populations at risk for health disparities.
"Membership in FAANP will provide incredible opportunities to continue working toward advancement of the NP profession and improvement of health care on global levels," Dr. Moore said. "I am deeply honored to join this esteemed group of colleagues and grateful for the opportunity to engage in such meaningful work." 
She has taught at Vanderbilt University School of Nursing (VUSN) since 1990, while practicing in a diverse number of settings that include family planning, sexual assault examination, private practice, community-based health care, and telehealth. She directs Vanderbilt's Women's Health/Gender-Related Nurse Practitioner specialty.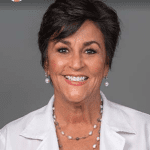 Dr. Larson, DNP, APRN, WHNP-BC, NCMP, IF, FAANP, is a former member of the NPWH's board of directors and is a nationally certified menopause provider as well as an International Society for the Study of Women's Sexual Health Fellow. She has served on the board of the Texas Association of Nurse Practitioners and as the AANP North Texas State Liaison.
"The journey to becoming a fellow is not easy; there is a rigorous and competitive selection process, and many exemplars required to demonstrate excellence and transformative contributions to the profession and to patient care," said AANP President and Vanderbilt professor April Kapu. 
Careers of service
Dr. Moore's volunteer activities have included service as a sexual assault crisis line worker, patient advocate in a residential community for women surviving lives of violence, prostitution, and addiction, and board member of a community organization focused on connecting women with resources to enhance overall well-being.
In 2021, Dr. Moore was the co-recipient of the VUSN Tradition Meets Innovation Award for her role in the development of a simulation model used for virtual teaching of pelvic health assessment skills. At the 2021 International Nursing Research Virtual Conference sponsored by the Emory Nell Hodgson Woodruff School of Nursing and Asian American Pacific Islander Nurses Association, Dr. Moore was recognized with the Yu (Phillip) Xu Mentoring Award for her work with the Asian American and Pacific Islander Student Nurses Affinity Group at VUSN. During the 24th Annual NPWH Premier Women's Healthcare Conference, Dr. Moore was honored for her body of work as an education with the Inspiration in Education Award.
Dr. Larson's passion for making comprehensive care for perimenopausal and menopausal concerns accessible for all women resulted in the development under her leadership of a menopause and sexual health clinic for low-income and underserved women in her county. At this clinic she sees women for dedicated menopausal care. Since the clinic's establishment in 2019 care for over 2500 women has been provided helping them to feel empowered and heard.
She has made a global impact as a volunteer at the Refugee Service of Texas. She has provided seminars to educate thousands of refugee women and asylum seekers in Texas about healthcare in the U.S. These seminars, translated in 23 different languages, help women know what to expect during healthcare visits for themselves and their children, the role of each member of the healthcare team, where to obtain pregnancy care and family planning services, how and where to get prescriptions and refills, when to go to the clinic versus an emergency room, and more. The information provided helps women feel safe, understand confidentiality of services, and have knowledge about how to care for themselves and their children in the U.S. healthcare system.
---
The contents of this feature are not provided or reviewed by NPWH.