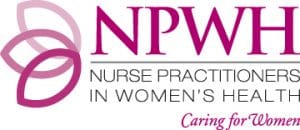 The National Association of Nurse Practitioners in Women's Health was founded in 1980. NPWH's mission is to assure the provision of quality health care to women of all ages by nurse practitioners. NPWH defines quality health care to be inclusive of an individual's physical, emotional, and spiritual needs.
NPWH recognizes and respects women as decision-makers for their health care. NPWH's mission includes protecting and promoting a woman's right to make her own choices regarding her health within the context of her personal, religious, cultural, and family beliefs.
NPWH represents nurse practitioners that provide care to women in the primary care setting as well as in women's health specialty practices.
NPWH is a trusted source of information on nurse practitioner education, practice, and women's health issues. NPWH works with a wide range of individuals and groups within nursing, medicine, the health care industry, and the women's health community.
For more information click here
Contact information:
Email info@npwh.org or call 202.543.9693 extension 1.
Mailing address:
505 C Street, Northeast
Washington, DC 20002
---
Position Statements

The following position statements represent NPWH's official stance on the issues affecting women's health care and the practice of women's health and women's health focused nurse practitioners. New statements will be added periodically and current statements will be updated as needed.
Cervical Cancer Screening – DRAFT
Healthcare for Transgender and Gender Non-Conforming Individuals
Prevention and Management of Opioid Misuse and Opioid Use Disorder Among Women Across the Lifespan
The Doctor of Nursing Practice for Women's Health Nurse Practitioners
Prevention of Alcohol-Exposed Pregnancies
Hereditary Breast and Ovarian Cancer Risk Assessment
Human Papillomavirus Vaccination

---
NPWH Career Site
To keep up with the latest NP jobs in Women's Health, create job alerts and post your profile on the NPWH CareerCenter website. Click here to get started!