In this spotlight, we get to know Cookie Bible, WHNP-BC. Cookie has been a member of NPWH since its first year and is a former Board member. She currently serves on the Policy Committee. She is also former President of the Board of Nursing for the State of Nevada. She is pictured here with her rescue dog, Zephyr.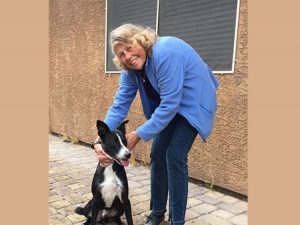 How long have you been practicing?  Where did you go to school?  
I graduated nursing school in 1971, began in-house training in 1972, and started practicing in 1973. I did it through the University of Nevada and taught there at the same time! This was in the early days of nurse practitioners.
What kind of practice do you work in?
Right now I'm volunteering at a free clinic, Volunteers in Medicine, in Las Vegas. We see low-income patients from around the area. We offer all sorts of services – dental, pharmacy, etc. – and I specifically work in women's health. Before that, I spent 21 years at Planned Parenthood in Reno.
Do you have a particular specialty? If so, how did you get interested in that specialty?
I used to do OB years ago – I was the head nurse in the maternity ward after graduation. Now I see women from 14 to 80 – across the lifespan!
Did you always want to be an NP? What made you want to become an NP? What has your career trajectory been?
I was a pre-med student, got married, became a registered nurse, and then became a WHNP. An OB/GYN doctor came to the area and thought I would make a good nurse practitioner. Being an NP has been a wonderful career and I hope to continue doing it! It's the best of both worlds. I'm working on becoming recertified this summer.
What is one fun fact about you?  
I am a Girl Scout of 66 years!
If you would like to nominate a member or yourself to be highlighted, please email Julia Knox at jknox@npwh.org. To view previous member spotlights, click here.